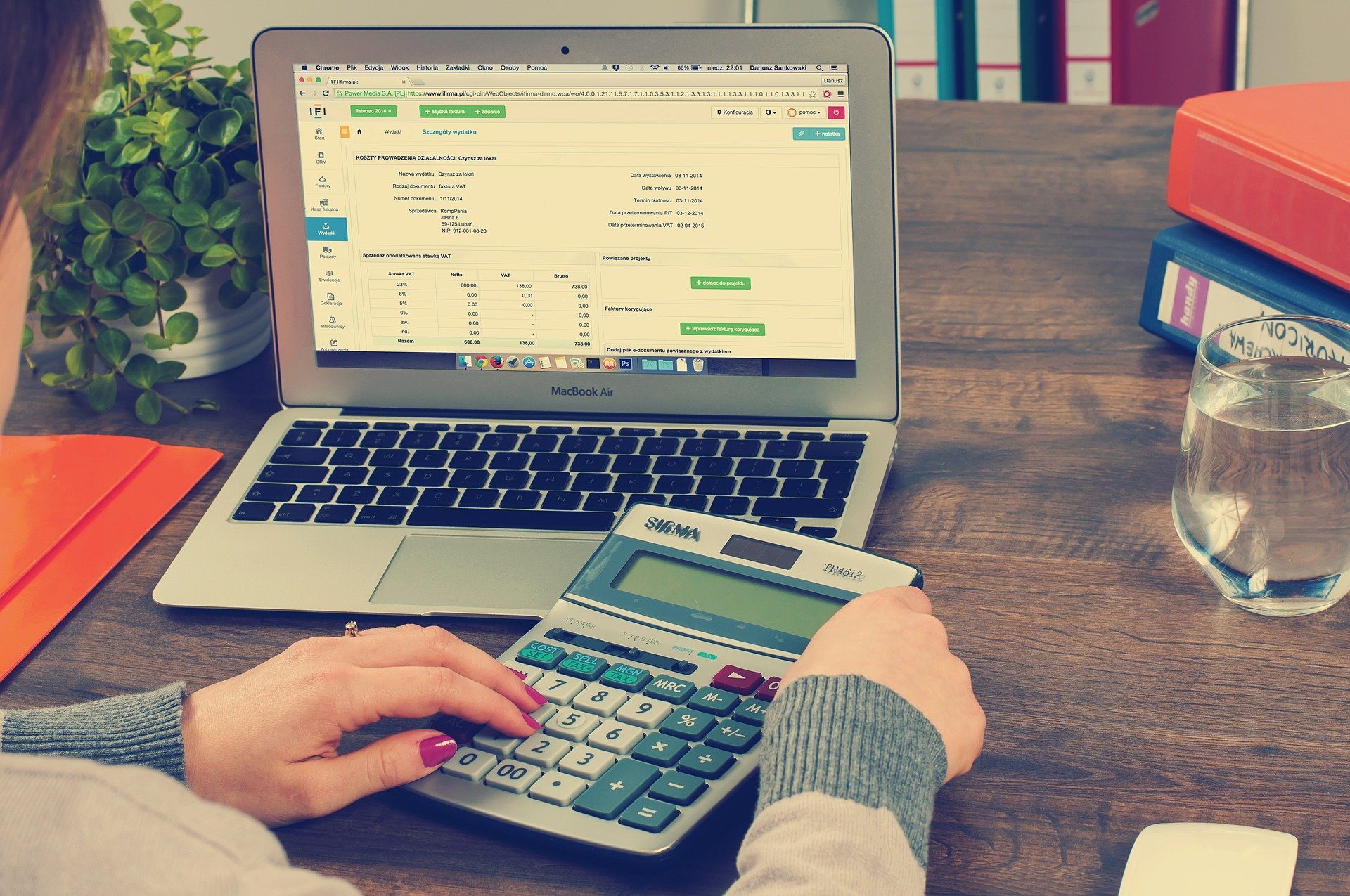 DEBT MANAGEMENT SOLUTIONS FOR YOUR FINANCIAL FREEDOM!
Are you feeling weighed down by the burden of debt? Have you been struggling with your finances? Perhaps you're even on the verge of bankruptcy? – Your road to recovery may be just a phone call away!
With the Debt Support Service, we are here to help free you from the stress and hardships associated with debt. With our fully tailored systematic approach, we'll establish the best strategy to help you out of your current situation.
The Debt Support Service is fully authorised by the Financial Conduct Authority (the FCA ). The Debt Support Service is a very well-respected debt management agency, known for dispensing professional debt advice in the UK. You can take a look at our website to see which services we provide to those with issues arising from debt, and read testimonials of people like yourself who've reached out for help.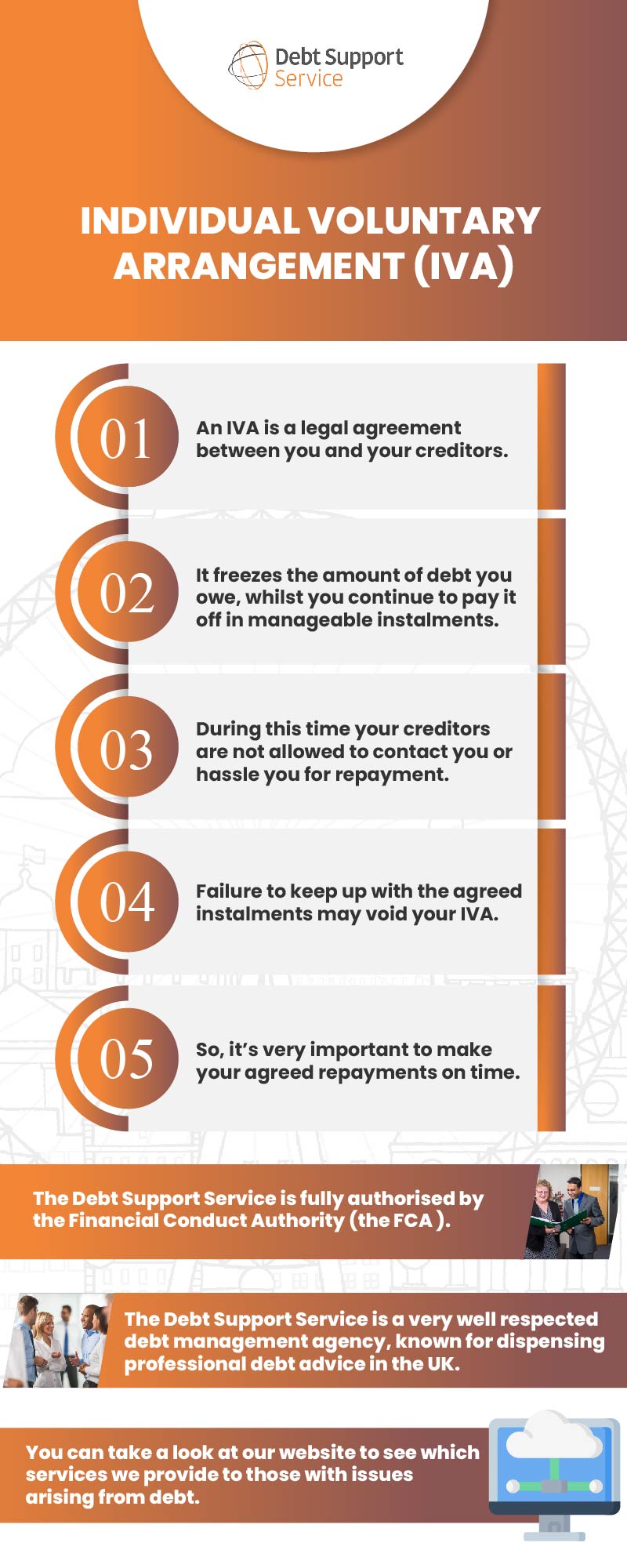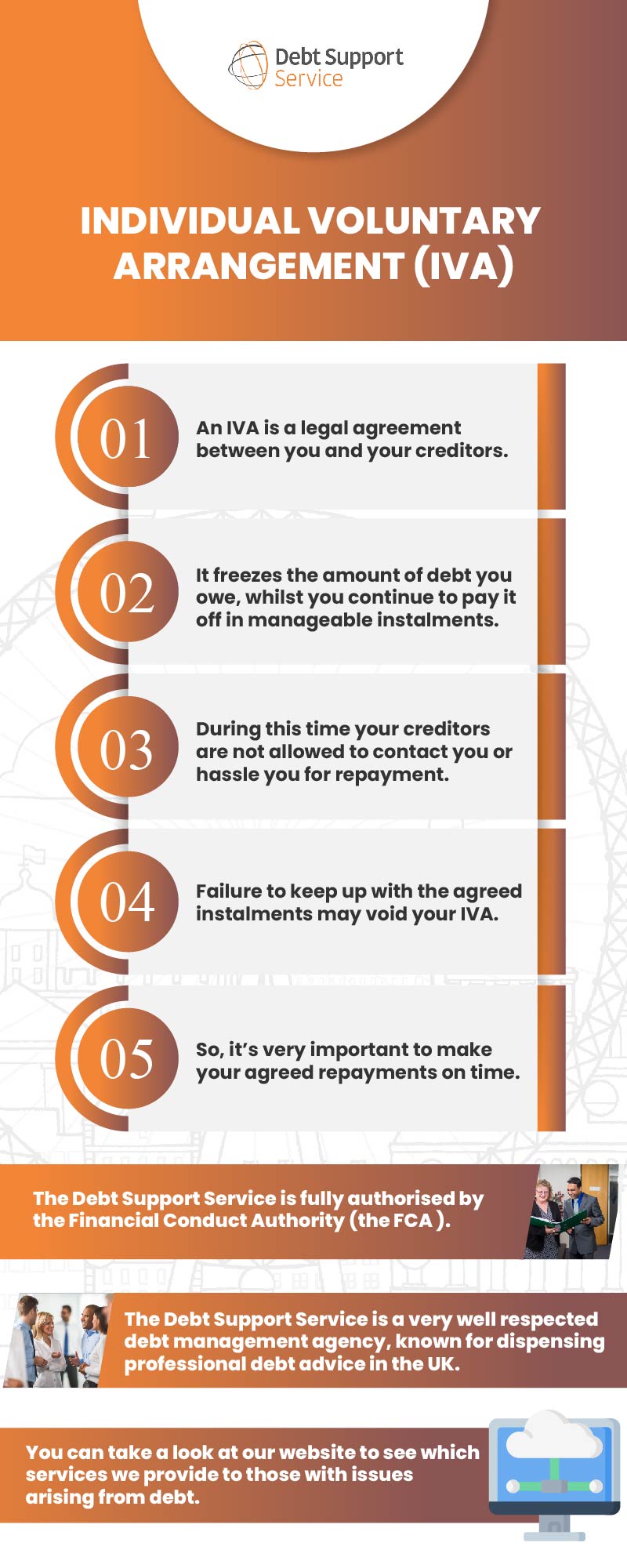 Individual Voluntary Arrangement (IVA)
An IVA is a legal agreement between you and your creditors. It freezes the amount of debt you owe, whilst you continue to pay it off in manageable instalments. During this time your creditors are not allowed to contact you or hassle you for repayment. Failure to keep up with the agreed instalments may void your IVA, so it's very important to make your agreed repayments on time.
What can the Debt Support Service do for you?
Once you've made contact with us, one of our advisors will check to see if you are eligible for an IVA. If you do meet the required criteria, we can connect you to an Insolvency Practitioner (an IP) who will then initiate your IVA . The IP will assess your financial situation, the time period over which you desire to pay back your debt, and the amount you can afford to pay, before proposing the plan to your creditors. Once approved by your creditors, the IVA can then begin. You'll then need to make regular payments to your IP who, on your behalf, will make payments to your creditors.
An IVA can be beneficial in many ways – You'll have the advice and guidance of an IP throughout its term, the option to make flexible monthly payments that are dependent on your specific circumstances, and stop interest from being added to your existing debt.
Debt management and debt advice in the UK
When burdened with debt, we can begin to feel trapped. The answer is to seek help from a specialist. By choosing the Debt Support Service, you'll benefit from the help and advice from professionals who have a huge amount of experience advising with debt management issues and providing debt advice.
At the Debt Support Service, we are ready to offer you professional debt advice UK and the support you need to see you through a difficult period.
Don't delay! Your route to financial freedom is only a call away.